The lure of sailing on the warm waters of the Whitsunday islands, in August, not to mention the competition from Australia-wide, has owners and crews once again feeling he pull of Airlie Beach Race Week (ABRW) and all it offers away from cold winters in their respective interstate homes.
To date, Whitsunday Sailing Club (WSC) is the recipient of140 entries across the myriad classes for the 34th running of its annual event, to take place from August 11 to 18, 2022.
A long way to come for some fun in the sun? Not so, according to competitors voyaging from as far afield as Western Australia and Tasmania. It is worth every mile, according to event disciples.
Peter Chappell, from Royal Freshwater Bay Yacht Club in Perth, is one such yachtie and 2022 marks his induction into to Airlie Beach Race Week Festival of Sailing. "Yes, this is my first Airlie Beach Race Week and we're looking forward to a good mix of sailing, the good sailing community, different types of boats and sun. There'll be seven or eight of us there," Mr Chappell said.
His weapon is 'The Cadillac', a Barrett 9.5 design. Chappell describes the boat he had built in 2013 as, "A big dinghy built for ex dinghy and Etchells sailors and it's got the excitement factor downwind. I decided to put the fun back into sailing and it keeps the crew active and fit too. "I'm putting the boat on the back of a truck around August 1. And we'll fly over."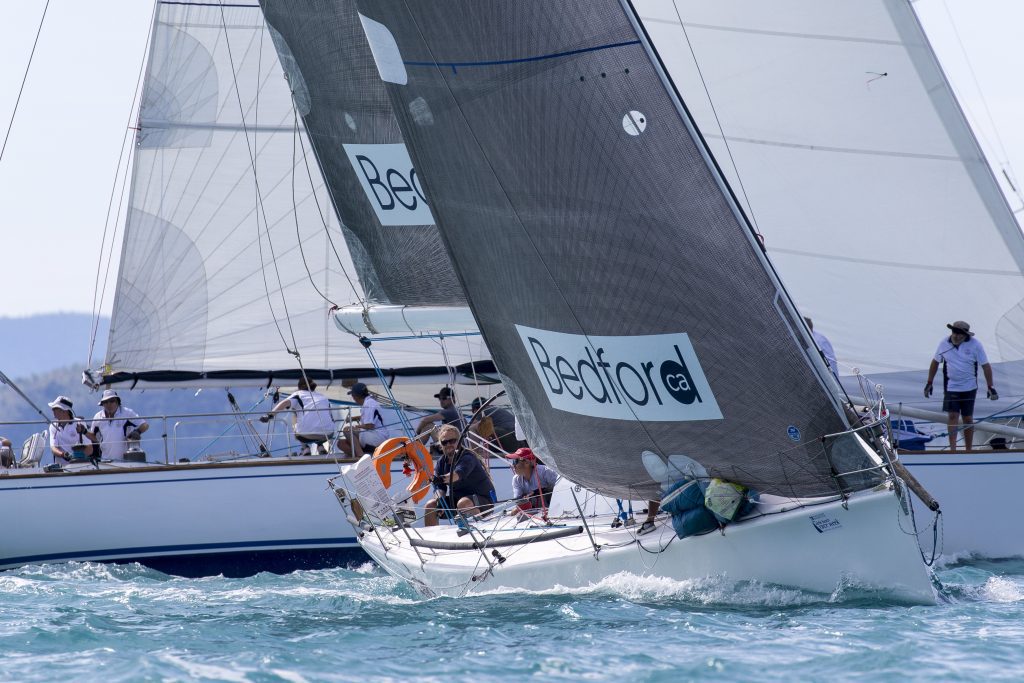 Anthony 'Captain' Kirke is arriving with his latest Enterprise, aptly named 'Enterprise Next Generation'. She is a Bo-tin & Carkeek GP42 from the Fast 40 circuit in the UK and was modified for offshore racing on arriving in Australia.
Kirke has contested major offshore events and regattas in and out of Western Australia. He is from Fremantle Sailing Club, over 3,000 nautical miles from Airlie Beach, to race against the heavies in the IRC/ORC Division.
Ray Roberts' Botin 40 Team Hollywood, Rob Date's new Carkeek 43, Scarlet Runner and fellow West Aussie, The Cadillac are among Kirke's rivals.
As far south as you can get from Western Australia, Richard Fader's One O Nine will sail over 1,700 nautical miles from her base at the Royal Yacht Club of Tasmania in Hobart. Fader's beamy and comfortable Hanse 540e will leave Hobart in July to sail in Performance Cruising Division 1.
"Why do we come so far, each year? Because we enjoy getting out of the cold," Mr Fader said. "Airlie is a good little town, and we catch up with mates from up there who come and sail with us. About a dozen of us have travelled up north from Tasmania for the past 10 years. We do it to have an enjoyable time away with a dozen mates who don't always ssee each other at home, so it's a great time to catch up with everyone.
"It's great fun, a good event and an enjoyable time. We probably do more sailing in the two weeks up north than at any other time." The owners of the three yachts will mingle with those from their hometowns along with competitors from South Australia, Victoria, NSW and Queensland at Airlie Beach Race Week.
Entry in this much anticipated annual event is open to IRC, ORCi, AMS, Performance Racing, Cruising, Non-Spinnaker Cruising, Sports Boat, One Design, Trailable Yachts, Multihull Racing, Multihull Passage and Off the Beach boats including the WETA 4.4 trimaran, F16 and F18 catamarans and others.
There is still time to enter Airlie Beach Race Week, vist:www.abrw.com.au or www.whitsundaysailingclub.com.au