Only 29% up for the month! Last month must have been an aberration with lower numbers but we are back to what are becoming normal activation numbers. Last month an activation took place on average every 26 hours!
ADVICE TO PWC/JETSKI OWNERS
A major service provided by VMR Whitsunday is to tow vessels to a safe haven (usually their launching point, where possible). Jetskis are different to standard boats in that they have a water intake at the front and we have been advised that engine damage may be caused by towing above a recommended speed – sometimes as low as 6 knots – for some makes and models.
VMR Whitsunday offers a towing service for most vessels including jetskis, conditions permitting. We suggest that you check your jetski operator's manual or consult your dealer whether there is a recommended procedure to be completed before towing commences – for example, some models have a tap/valve which must be turned off, or you can carry clamps to shut off the intake flow. It will be the jetski owner's responsibility to take the recommended remedial action, including the positioning of clamps. VMR Whitsunday is not an expert in jetskis, but can tow them – at the owner's own risk, at an agreed safe speed. You are responsible for any damage that may be caused by towing. 
If you call for assistance, we are prepared to tow you, but our skippers have been instructed that the tow cannot commence before you sign our standard indemnity document. VMR Whitsunday does not suggest any particular approach to be taken or devices to be used for the tow, and your agreement will signify your acceptance of full responsibility.
An example of the clamps we refer to can be seen in the photo, these are from Supercheap but all other parts suppliers will have similar devices. (n.b. this is for illustration only, we do not advocate any particular product or business.)
Made from durable non-conductive polymer, these clamps are ideal for sealing flexible brake lines, fuel lines, vacuum lines and heater and radiator hoses during maintenance or replacement of components.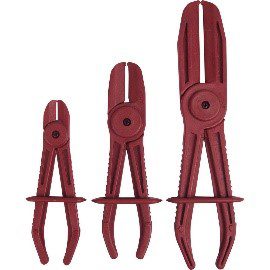 Personal watercraft speed and distance
It is important that PWC/Jetski operators do not exceed set speed limits for your safety and that of everyone else on the water. Do not travel at speeds where your wash can cause damage to the shoreline, other boats or injury to others. Consider the density of traffic in the area to determine a safe speed.
When riding a PWC the following distances must be maintained, or speed reduced to 6 knots (approx. 11 kph) within 60 metres from:
• people in the water
• anchored or moored boats, boat ramps, jetties or pontoons
• the shore
• the boundary of a bathing reserve.
VMRW membership is cheap insurance at just $80. You can join online at https://vmrwhitsundays.com.au/join/ and your membership helps to keep us going in case you need us. We hope you don't!